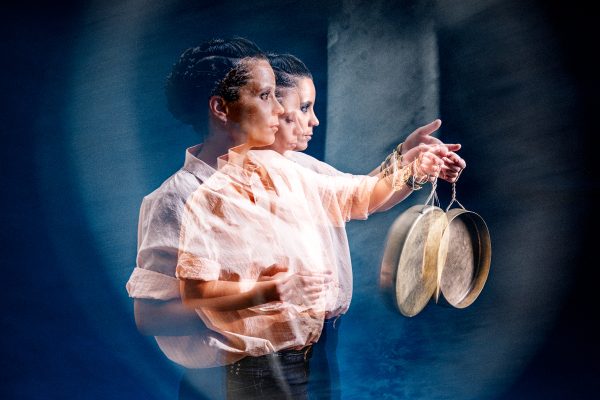 "The most complete, the most brilliant, the most scenic percussionist… Anne Paceo is one of those musicians that we follow with fervour because with her smiling authority she shows the way…" – Le Monde
Charlie Haden said of her: "She has impressed me immensely with her talent, musicality and dedication to her art form. Her personal style and distinctive sound make her a unique musician."
Born in 1984, she spent her childhood in Daloa, Ivory Coast, hearing the beat of great drum masters practicing next to her family's home. Anne Paceo chose the drums. The option forces admiration as the number of women drummers can still be counted on the fingers of one hand. But Anne Paceo has the magic touch. And a hell of a technique acquired at the Paris National Conservatory of music.

At the age of 19, she began a career as an accompanist with an astonishing array of artists ranging from Archie Shepp to Philippe Catherine, via John Mc Laughlin, Charlie Haden, Rhoda Scott, Michel Legrand, Christian Escoudé, Rick Margitza, Henri Texier, China Moses, Leyla McCalla, Andy Sheppard, … It is perhaps there she develops a taste for the world sound. At twenty-four.
Her irruption on the jazz scene made a big noise. The critics hailed the arrival of a "major figure of the new wave of jazz". Her following albums, crowned 3 times with « Victoires de la Musique » (french Grammy award) , are as many sonic journeys, where Anne Paceo explores genres: funk, soul, pop, jazz; configurations: from trio to XXL formations, on 5 continents and 46 countries.
In 2008 and 2010 she published "Triphase" and "Empreintes", trio albums where she co-composes the music with her two stage companions Leo Montana & Joan Eche-Puig. She then makes her first steps as a composer. "Her music is "remarkable" Télérama, "a dialogue of equals, where listening and respect make you understand what is the art of the trio" Citizen Jazz
In 2012 she published "Yôkai", a sound 5tet travelogue entirely composed by herself, which allows her to embrace her independence and assert her talents as a composer. "Anne Paceo is one of the major figures of the new French jazz scene" Jazz magazine
With the composite album Circles ( with Emile Parisien, Leila Martial & Tony Paeleman ) released in 2016, in which she explores at once pop, jazz and hip hop, followed by the live album Fables of Shwedagon (2018), recorded live with musicians from Myanmar, a signature talent for melody and musical poetry clearly emerges.
"Rarely have two cultures, two musical histories this music has absolutely nothing artificial or calculated, it is of a rare spirituality, in that it embodies the idea of playing together " Jazz magazine
Qualities which are confirmed even transcended with Bright Shadows (2019) which follows suite from Circles. Once again no boundaries, they are too restrictive. Pop, folk, jazz, electro have a voice, they mingle and are modulated at wish as imagined and orchestrated by Anne Paceo. Bright Shadows take her on the road to the biggest festivals, theaters and national stages. "An album both demanding and accessible" Rolling Stones
That same year, Anne Paceo was invited as a mentor to the Montreux Jazz Academy to teach alongside John Mc Laughlin and the Snarky Puppy.
Today, Anne Paceo slips into the shoes of a healer with S.H.A.M.A.N.E.S released in 2022, an album inspired by the sacred songs of the world. The album is number 1 during many weeks in the French jazz charts and journalists are unanimous : "S.H.A.M.A.N.E.S seems to be an achievement, perhaps an apotheosis ». Télérama "Anne Paceo has established herself as one of the major figures of the French musical scene" Libération
Don't forget that Shamanes are also bewitching and that Anne Paceo is the most scenic of percussionists.