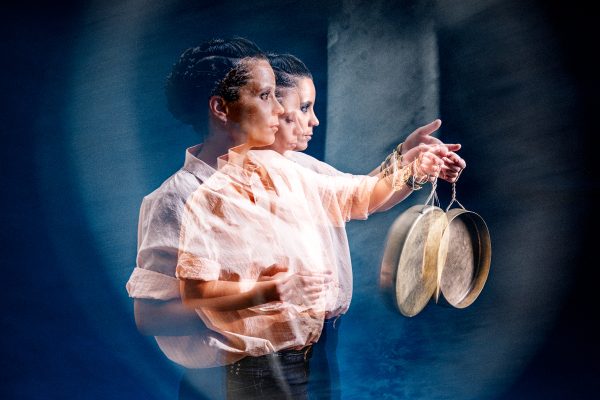 "The most complete, the most brilliant, the most scenic percussionist… Anne Paceo is one of those musicians that we follow with fervour because with her smiling authority she shows the way…" – Le Monde
Charlie Haden said of her: "She has impressed me immensely with her talent, musicality and dedication to her art form. Her personal style and distinctive sound make her a unique musician."
A fertile leader and composer, Anne Paceo has been able to invent a singular and identifiable style from the very first bars. Her three Victoires de la Musique awards, "Jazz Artist of the Year" in 2019, "Jazz Artist of the Year" in 2016, "Jazz Revelation" in 2011, and her prolific discography have taken her to 45 countries on five continents. With six albums and an EP to her credit, Anne Paceo plays with codes and styles, making it a point of honour to break down borders and seek out very particular alchemies between the musicians who make up her groups.
First spotted as an accompanist, she has been playing professionally since she was 19 years old with some of the biggest names on the French and international music scene. She has played with Archie Shepp, Rhoda Scott, Christian Escoudé, Marcel Azzola, Henri Texier, Andy Sheppard, Alain Jean-Marie, Philippe Catherine, Sandra Nkaké, Biréli Lagrène, Ibrahim Maalouf, Emmanuel Bex, Michel Legrand, Jeanne Added, Melissa Laveaux, China Moses, Mickael League (Snarky Puppy), Eric Bibb, Raphael Imbert, … to name but a few.
In 2008 and 2010, she published "Triphase" and "Empreintes", trio albums where she co-composes the music with her two stage companions. She then took her first steps as a composer. "Remarkable" Télérama, "a dialogue of equals, where listening and respect make you understand what the art of the trio is". Citizen Jazz
In 2012 she published "Yôkai", a sound travelogue in quintet, entirely composed by her, which allowed her to embrace her independence and affirm her talents as a composer. "Anne Paceo is establishing herself among the major figures of the new French jazz scene" Jazz mag, "The record of maturity" Jazz News, "Yôkaï is one of those sunny, hypnotic and addictive works that leave you dreaming, with a blocked smile." FIP
In 2016, with "Circles", she asserts her style and her organic, abundant and generous writing, at the borders of jazz, pop, electronic music and world music. The group played more than 120 concerts throughout France and the world. The critics are full of praise: "A true poetic and inspired painting" FIP, "With Circles Anne Paceo invites us on a journey where cosmic rock meets soulful prayer, where cold steel funk can lead to strange extraterrestrial drifts, leading us step by step to another, unknown and fascinating territory" Les Inrocks, "Anne Paceo is at the forefront of creators capable of blending the art of songwriting with the evocative force of improvisation" Jazz magazine.
In 2018 she released "Fables of Shwedagon" her first live album, the result of a meeting with musicians from Myanmar. "Rarely have two cultures, two musical histories coexisted so well, this music has absolutely nothing artificial or calculated about it, it is of a rare spiritualitý, in that it wonderfully embodies the idea of playing together." Jazz magazine
The same year, she became associate artist of the festival Jazz sous les Pommiers, for 3 years.
In 2019, his 6th album, "Bright Shadows", was released, taking her on the road to the biggest festivals, theatres and national stages. The album is described as "a great record" by Jazz magazine, "an album that is both demanding and accessible" by Rolling Stones, "a universal and borderless album that could be on the turntables of all lovers of visceral music and poetry" by Batterie magazine
The album is followed by "Samâ" in 2020, recorded with the same team; it is her first EP, consisting of 3 bonus tracks and 2 live tracks recorded at the Philharmonie de Paris.
That same year, Anne Paceo was invited as a mentor to the Montreux Jazz Academy to teach alongside John Mc Laughlin and the Snarky Puppy.
Anne Paceo is currently preparing the recording of her 7th album entitled "S.H.A.M.A.N.E.S" which will be released on her brand new label.